Accessories
Compact & feature-packed
---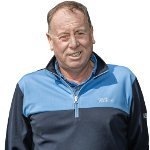 ---
It's one thing to be a market leader, but revolutionising the category the way Motocaddy has with its electric golf trolleys is simply incredible. Technologies like Downhill Control and EASILOCK have changed the game, so we're going to talk through some of the most impressive features in this year's Motocaddy's range.

Downhill Control (DHC)
This really is one that solved a big problem for golfers. Have you ever tried navigating hills & slopes with a trolley? DHC allows your trolley to glide seamlessly over all terrain, which means that hilly golf courses are never a problem. The electronic parking brake also means you can park it on a slope with peace of mind whilst going to hit your shot.
Compact folding & inverting wheels
From on-course convenience to getting to the course in the first place, the easy-folding mechanism in all Motocaddy trolleys gives you an ultra-compact shape that fits into a car boot really easily. The space-saving inverting wheels were a key step forward in this, and is something you'll find on all electric trolleys across the range.

Adjustable height
Simple, but effective. It may not be as high-tech as some of the other innovations, but the adjustable height of the handle makes these trolleys easy for everybody to use. Being able to adjust your trolley to your own preferences is just a nice additional touch that makes the whole round more comfortable.
EASILOCK
Finally, we come to another industry-leading development of Motocaddy's. All trolleys are EASILOCK-compatible, which means they work in conjunction with the EASILOCK base of every Motocaddy bag. This allows the bag to lock into the base simply and securely; no faffing around and no risk of it falling off.


All these features and technologies add up to a range of electric golf trolleys that give you everything you need and more. It's well worth exploring and digging deeper, though, so make sure you visit the pro shop for a closer look.